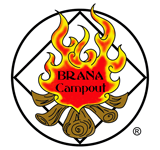 The BRANA Campout Planning Committee has begun the planning for the 37th Annual BRANA Campout, to be held July 20-22, 2018, at Natural Chimneys Campground in Mount Solon, VA.
We would like to ask you for your input to help us choose a theme for the Campout.
Any Narcotics Anonymous member may submit a theme. Do not send logo or artwork ideas, just themes. Recent themes include "Carry the Message", "Freedom to Live", "The Journey Continues", "We Do Recover", "Against All Odds", "Alive and Free", "A Spiritual Awakening", "A New Way to Live" and "No Matter What".
Please submit your suggestion for the theme by November 15, 2018, to campout@branacampout.org