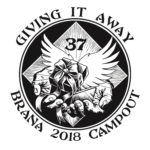 We have completed the BRANA 37 – "Giving It Away" artwork and continue to work on planning for the event. We hope for another great turnout and are looking forward to the 3rd weekend in July!
The 37th Annual BRANA Campout will be held on July 20-22, 2018 at Natural Chimneys Campground in Mount Solon, Virginia.
Click the link below to register for the event.