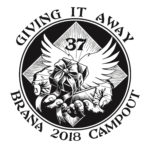 Online Registration for the 37th Annual Campout will close at midnight on Friday, July 13, 2018. If you need to cancel for any reason, your cancellation must be received by 12 am on July 13th, 2018 in order to receive a refund. Please see our cancellation/refund policy here.
On-site Registration will be open during the following hours:
Friday, July 20th: 12 noon to 6 pm
Saturday, July 21st: 9 am to 5:30 PM
NOTE: We will be accepting credit cards for on-site registration as well as merchandise sales.
For those planning to register at the event – there will be plenty of room for all!