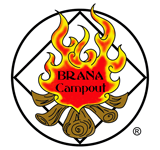 "Giving It Away" has been selected as the theme for the 37th Annual BRANA Campout. The theme was selected from a number of theme suggestions submitted by NA members. We would like to thank all of you who submitted your ideas.
Artwork for the new logo is being developed and the Planning Committee continues its work in planning for the event.
We are looking forward to seeing you all the third weekend of July 2018!