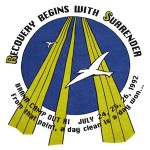 In June of 2013, we located the campout artwork from BRANA 7, held in July 1988. Our archive is still incomplete and we continue to search for artwork from some of the early campouts.
There may or may not have been a flyer for BRANA One in 1982. We have not been able to locate it, but if it's out there, we'd like to have a copy for our archives.
Also, we have been unable to locate the artwork from the following:
BRANA 4, 1985

BRANA 13, 1994
If you have artwork (flyer, T-shirt, coffee mug, etc.) from these campouts, please bring it to BRANA 32. We would like to photograph, scan, or somehow make copies of it for our archives. You keep the item.
Or if you know of someone who was around those early BRANA Campouts and might have something, please ask them to contact us. Again, they keep the item. We just want to make a copy of the campout artwork.
Contact us at campout@brana.org