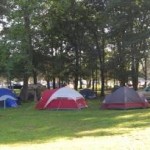 We received word this week that Natural Chimneys Campground is expecting the BRANA Campout to return on the third weekend of July next year.
So mark this date on your calendar: July 15 – 17, 2011, for BRANA 30, "The Journey Continues."
The campground's owner, the Augusta County Department of Parks & Recreation, plans to add a few new campsites; however, that work has yet to be scheduled and no funds have been budgeted for the work. We will plan to use the campground as it has been in recent years.
We should complete our contract with Natural Chimneys sometime in January and we plan to begin online registration in February.