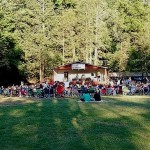 Greigh, Harrisonburg, VA…First campout ever!! Amazing experience. I'm so glad that there's something else out there for me.
Kelli W., Broadway, VA…My 2nd year here. I celebrated my 1st year clean and now my 2nd year clean at BRANA. Thanks for the support. I'm grateful to be part of NA.
Leni A., New Jersey…Such an easy place to meditate!! Nothing like the mountains since we live in the flatlands of Salem-Cumberland County in New Jersey. Love you lots.